Effisun Solar Solutions
We provide numerous different solar panel services to our customers which includes:
Unique Solutions
Effisun Technologies strongly believes in custom solutions. This is because each individual's roof/space and energy requirement is unique as per their location, height, shading issues, roof utilization, and area constraints. Therefore, every SOLUTION is unique and designed to meet the individual needs of our customers.
Due to many queries, we have prebuilt packages to provide an estimated cost of residential and smaller capacity systems. However, these costs still differ as per each design requirement.
Boutique Installer Of Solar Panels
We pride ourselves in being a boutique installer of solar panel systems, i.e., we give effort and time to all ongoing projects equally and do not take on excessive new projects to maintain our quality of installation and solar panel services. Customer satisfaction is our utmost priority.
We work closely and carefully to deliver and exceed our client expectations while thoroughly guiding and enlightening them about the latest technological innovations that are available with our solutions. All you need to do is sit back, relax and take pride in observing on your mobile App how much energy your rooftop or space is generating and enjoy free electricity for a lifetime with the help of our solar panel services.
Pakistan can become less reliant on international sources of fossil fuels once it increases the use of solar energy.
A sustainable move toward energy independence will boost our country's economic and environmental stability, as well as the stability of every other country trying to make a positive change.
Transition To Renewable Energy
The transition to renewable energy would relieve the world's population of its dependence on greenhouse-gas-emitting fossil fuels, improving economic conditions and overall quality of life.
Our solar panel services provide reliable solutions for both residential and commercial usage and contributes to making Pakistan a better place to live.
The fundamental concepts of all solar power systems are the same. The photovoltaic (PV) effect is used by solar panels to transform solar energy or sunlight into DC electricity. The DC power can then be stored in a battery or converted to AC power by a solar inverter for use in household appliances. Excess solar energy can be fed into the electricity grid for credits or deposited in a variety of battery storage systems, depending on the type of device.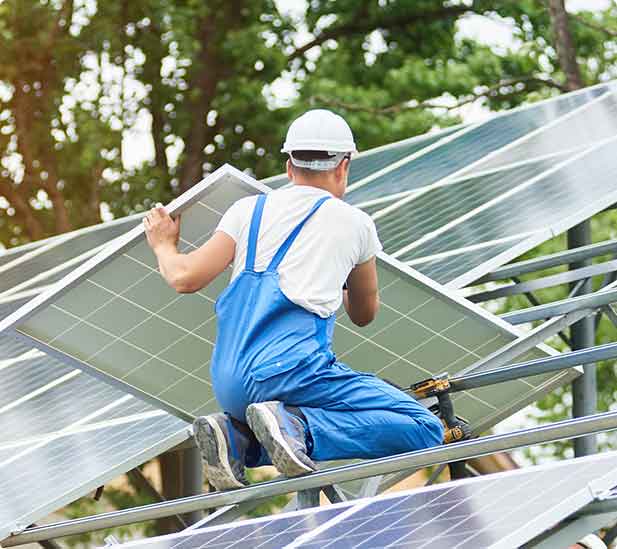 Contact Us Today!
Ready to embrace
Clean Energy
Revolution?
Karachi – Lahore – Islamabad – Peshawar